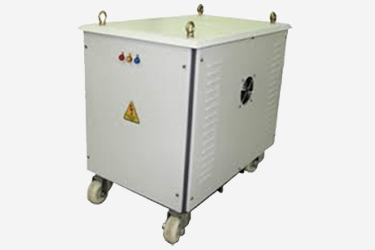 Ultra Isolation Transformers
The Isolation Transformers are the special application that is required to Isolate the specific device or equipment or machinery at a low voltage range to avoid earth faults or voltage dropping during operation.
We have good expertise in designing Ultra Isolation Transformers. These noise cut-off transformer is compact in design, cost-efficient, and performs with musical perfection.
Spikes generated on switching of electrical utilities in Industrial & Commercial environments can damage thyristors, Micro-processors, or other active electronic device. Up to 6000 Volts & high-frequency power line Noise produced from spikes can interfere with Digital-Electronic equipment causing changes in the program, erratic behavior, data corruption, loss of memory, etc.
The noise cut-off Ultra Isolation Transformers thus eliminate noises from high frequency and attenuates the spikes to negligible values. This way these protect from such kinds of electrical disturbances.
Ultra Isolation Transformer Salient features
Symmetrical characteristics allow noise attenuation from sides.
No need for extra filter circuits.
Can be used where a different ground potential exists or the ground of the equipment cannot be earthed.
No impedance matching is required.
Ultra Isolation Transformer Applications
Protect the Computers, CNC Machines, and Telecommunications equipment from damage due to electrical noise, spikes, etc.
If the ground potential of system units are different from each other and are exposed to the effects of instability at high frequencies.
If the ground of the equipment cannot be earthed.
When no slightest current leakage is permitted in the equipment. Especially for computers and CNC controls less than 100 micro Amps is only permitted.
To protect against strong lighting, impulse noise, bus short-circuit accidental discharge of capacitors, etc. When no slightest current leakage is permitted in the equipment.
When multiple Noise Cut-off transformers are used, the suppression effects increase in proportion. Therefore, the effects of cascading Noise Cut-off Transformers are remarkable.
To shield a large number of electronic equipment which individually also are producing different types of electrical noise at a common busbar typically CNC machines, Drives, Hardening equipment, etc. The use of NCT, being bidirectional, prevents damage due to circulating noise interference within them.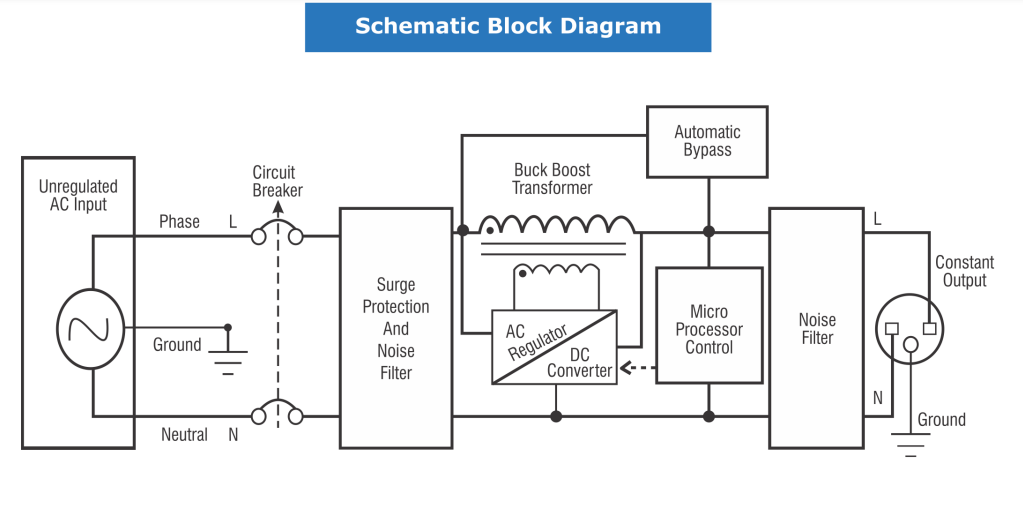 This Static Voltage Regulator is made by using high frequency IGBT (Insulated Gate Bi-Polar Transistor) through 20 KHz PWM inverter-based technology to maintain constant precise voltage.
ESP-PLC unit instantaneously corrects only essential difference voltage through IGBT, to achieve 240V precise constant voltage which adds or subtracts from the main of incoming power line. The input voltage is sensed by feedback control system through digital signal processor (DSP) and corrections are made by varying duty cycle of the PWM, during system regulation it is done electronically within 20 milli seconds without any step changes in output voltage.
Technical Specification for 3 Phase Power Line Conditioners-Static Voltage Regulators
Capacity

In KVA

»

15 KVA

20 KVA

25 KVA

30 KVA

40 KVA

50 KVA

60 KVA

75 KVA

In KW

»

12 KW

16 KW

20 KW

24 KW

32 KW

40 KW

48 KW

60 KW

In HP

»

16 HP

22 HP

27 HP

32 HP

43 HP

54 HP

65 HP

80 HP

In Amp

»

21 A

28 A

35 A

42 A

56 A

70 A

84 A

105 A

Approx. Dimension In mm

»

350W x 540D x 800H

380W x 585D x 840H

508W x 635D x 1000H

533W x 685D x 1000H

Approx. Weight

»

60-80Kgs.

100-120Kgs.

140-160Kgs.

180-200Kgs.

 

In KVA

»

100 KVA

110 KVA

120 KVA

130 KVA

150 KVA

160 KVA

180 KVA

200 KVA

Capacity

In KW

»

80 KW

88 KW

96 KW

104 KW

120 KW

128 KW

144 KW

160 KW

 

In HP

»

108 HP

118 HP

128 HP

140 HP

160 HP

171 HP

193 HP

215 HP

 

In Amp

»

140 A

153 A

167 A

181 A

208 A

222 A

250 A

278 A

Approx. Dimension In mm

»

635W x 710D x 1100H

650W x 730D x 1200H

700W x 750D x 1300H

750W x 800D x 1500H

Approx. Weight

»

300-330Kgs.

350-380Kgs.

400-430Kgs.

460-500Kgs.

 

 

 

 

 

 

 

 

 

 
 

Technology

»

High Frequency 20 KHz IGBT – PWM Based Technology

Type of Connection

»

Star Connection – R, Y, B, N & G.

Type of System

»

Unbalanced 3 Phase 5 Wires

Standard Input Voltage Range

»

330V – 500V Phase to Phase & 186V – 277V Phase to Neutral

Standard Output Voltage

»

415V +/- 1% Phase to Phase & 240V +/- 1% Phase to Neutral

Output Adjustable

»

380V to 420V AC in 3 Phase

Optional Voltage Range

»

Will Be Available on as Per Requirements

Response Time

»

Within 10 Milli Second

Correction Speed

»

Very Fast, Instantaneously Within 20 Milli Second, i.e. Within One Waveform

Frequency Range

»

43Hz to 63Hz

Efficiency

»

≥ 97 % (With 20% To 100% Load Conditions)

Display

»

Digital Display, LCD Type – Micro Controlled Based

Readable Facility

»

Input & Output Voltage, Current and Frequency Readable

Trip And Restart

»

Auto / Manual

Nature Of Cooling

»

Natural- Air Cooled/ Fan Forced-Cooled

Duty Cycle

»

Continuous

Waveform Distortion

»

Nil

Ambient Temperature

»

0ºC to 50º Centigrade

Enclosure

»

IP 20, Class of Protection

Surge Protection

»

In-built Class 2 Surge Protection MOV Based

Noise Filter

»

In-built Through Filter Capacitor