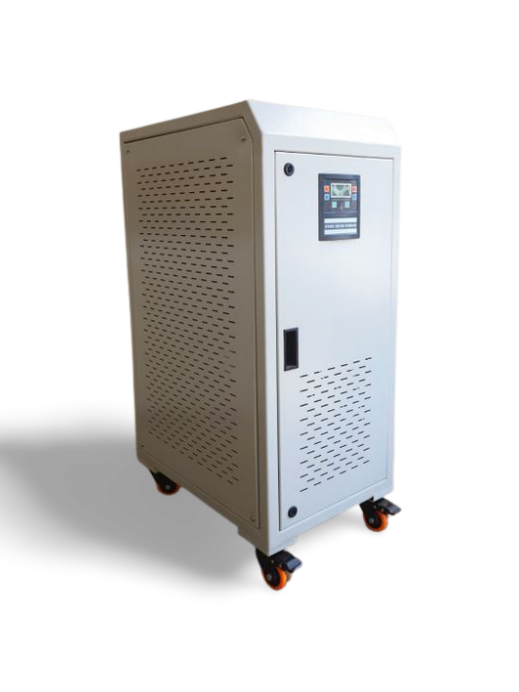 Static Voltage Stabilizer
The Static Stabilizers manufactured & supplied by Embark Power (P) Limited is the perfect solution for some special conditions, where stable power is compulsory. Applicable for high-end electronics, the said are accessible with exclusive pulse-width-modulation technology. These are the new generation voltage stabilizers, provided with fast regulation as well as less distortion in the output waveform. Static Stabilizers are provided with many power switches and are totally safe in their use. These can be operated with different rating needs and are so compact in size. It allows for a trouble-free operation and can deal with all types of loads. Their utilization never results in a break in the power path, regardless of the input voltage variations. The benefits include instantaneous correction, aesthetic design, outstanding voltage regulation, inbuilt surge, noise filter, energy efficient replacement for energy gulping CVT, quiet operation, etc.
Static Voltage Stabilizer or Static Voltage Regulator, as the name implies is a type of voltage stabilizer that does not use any mechanical motors or moving parts with carbon arms and brushes for voltage correction Static Stabilizer has a solid stale arrangement that consists of high-frequency IGBT units and Pulse Width Modulation control which provides super smooth and highly stable output voltage even under severe erratic voltage conditions. Its operation is completely useless and is absolutely maintenance-free as no moving parts are used for voltage correction.
Because of its high precision, super quick regulation, and inbuilt circuit protections, Static Voltage Stabilizer is by far the best voltage stabilizer that can be used for industrial applications with tools viz CNC machines. VMC machines, PLC controlled machines, Injection moulding machine(injection) e) Elevator/lifts. Medical instruments, Analytical instruments, Calilurations machines, etc. Static Stabilizer can also be used as mainline stabilizers in homes for comprehensive protection of expensive and sensitive appliances
Embark Power (P) Limited is one of the few highly trustworthy State Voltage Stabilizer manufacturers in Pune, India. Our systems are trusted by several national and international conglomerates We enjoy an honorable reputation among our domestic and industrial customers owing to our impeccable product quality, ethical business standards, and a team of members who is supremely dedicated to delivering exceptional customer experience.
Benefits of Static Voltage Stabilizer
Super quick response time of 50 microseconds
Fast regulation speed of 4000 volt/sec
Continuous supply of highly stable output voltage
Independent phase correction and capable to handle unbalanced 3-phase input without any trouble
Built-in protections against over/under voltage, phase reversal single phasing overload, over temperature & short circuit
Zero maintenance cost because of no mechanical or moving parts
Completely noiseless operation
Lowest footprint (less space needed)
Compatible with all kinds of loads
99 8% efficiency
Greatly improves power quality and reduces electricity consumption at the site of installation
Highly effective for sensitive load equipment having high-speed solid-state devices and drives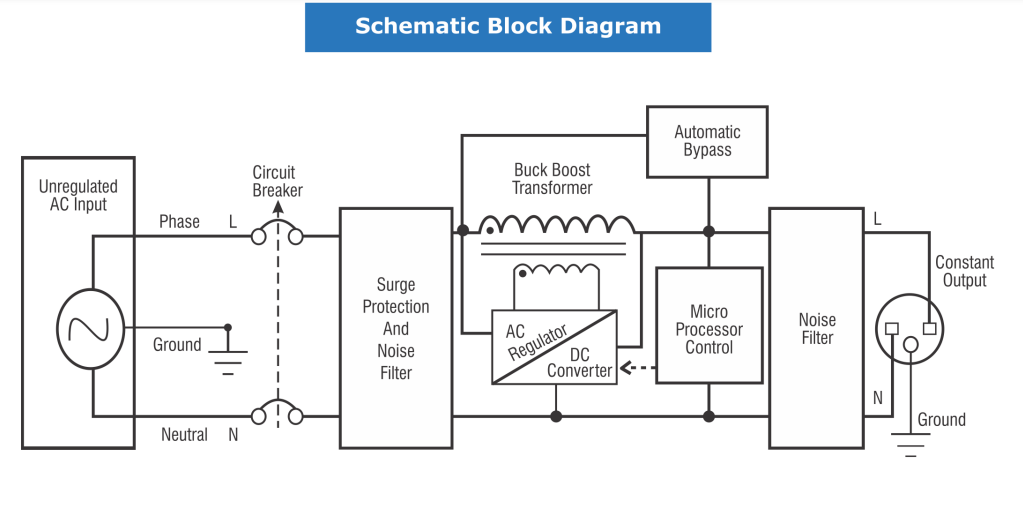 This Static Voltage Regulator is made by using high frequency IGBT (Insulated Gate Bi-Polar Transistor) through 20 KHz PWM inverter-based technology to maintain constant precise voltage.
ESP-PLC unit instantaneously corrects only essential difference voltage through IGBT, to achieve 240V precise constant voltage which adds or subtracts from the main of incoming power line. The input voltage is sensed by feedback control system through digital signal processor (DSP) and corrections are made by varying duty cycle of the PWM, during system regulation it is done electronically within 20 milli seconds without any step changes in output voltage.
Technical Specification for 3 Phase Power Line Conditioners-Static Voltage Regulators
Capacity

In KVA

»

15 KVA

20 KVA

25 KVA

30 KVA

40 KVA

50 KVA

60 KVA

75 KVA

In KW

»

12 KW

16 KW

20 KW

24 KW

32 KW

40 KW

48 KW

60 KW

In HP

»

16 HP

22 HP

27 HP

32 HP

43 HP

54 HP

65 HP

80 HP

In Amp

»

21 A

28 A

35 A

42 A

56 A

70 A

84 A

105 A

Approx. Dimension In mm

»

350W x 540D x 800H

380W x 585D x 840H

508W x 635D x 1000H

533W x 685D x 1000H

Approx. Weight

»

60-80Kgs.

100-120Kgs.

140-160Kgs.

180-200Kgs.

 

In KVA

»

100 KVA

110 KVA

120 KVA

130 KVA

150 KVA

160 KVA

180 KVA

200 KVA

Capacity

In KW

»

80 KW

88 KW

96 KW

104 KW

120 KW

128 KW

144 KW

160 KW

 

In HP

»

108 HP

118 HP

128 HP

140 HP

160 HP

171 HP

193 HP

215 HP

 

In Amp

»

140 A

153 A

167 A

181 A

208 A

222 A

250 A

278 A

Approx. Dimension In mm

»

635W x 710D x 1100H

650W x 730D x 1200H

700W x 750D x 1300H

750W x 800D x 1500H

Approx. Weight

»

300-330Kgs.

350-380Kgs.

400-430Kgs.

460-500Kgs.

 

 

 

 

 

 

 

 

 

 
 

Technology

»

High Frequency 20 KHz IGBT – PWM Based Technology

Type of Connection

»

Star Connection – R, Y, B, N & G.

Type of System

»

Unbalanced 3 Phase 5 Wires

Standard Input Voltage Range

»

330V – 500V Phase to Phase & 186V – 277V Phase to Neutral

Standard Output Voltage

»

415V +/- 1% Phase to Phase & 240V +/- 1% Phase to Neutral

Output Adjustable

»

380V to 420V AC in 3 Phase

Optional Voltage Range

»

Will Be Available on as Per Requirements

Response Time

»

Within 10 Milli Second

Correction Speed

»

Very Fast, Instantaneously Within 20 Milli Second, i.e. Within One Waveform

Frequency Range

»

43Hz to 63Hz

Efficiency

»

≥ 97 % (With 20% To 100% Load Conditions)

Display

»

Digital Display, LCD Type – Micro Controlled Based

Readable Facility

»

Input & Output Voltage, Current and Frequency Readable

Trip And Restart

»

Auto / Manual

Nature Of Cooling

»

Natural- Air Cooled/ Fan Forced-Cooled

Duty Cycle

»

Continuous

Waveform Distortion

»

Nil

Ambient Temperature

»

0ºC to 50º Centigrade

Enclosure

»

IP 20, Class of Protection

Surge Protection

»

In-built Class 2 Surge Protection MOV Based

Noise Filter

»

In-built Through Filter Capacitor